Yoo Jae-suk's ambitious new corner weather caster was released.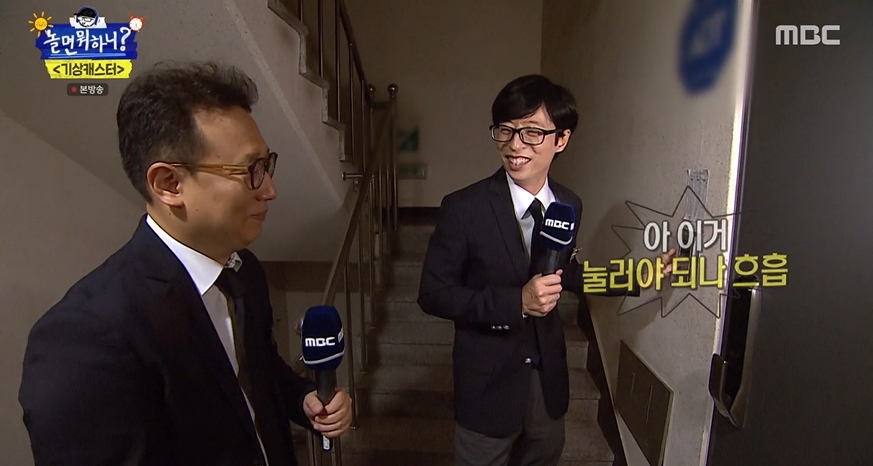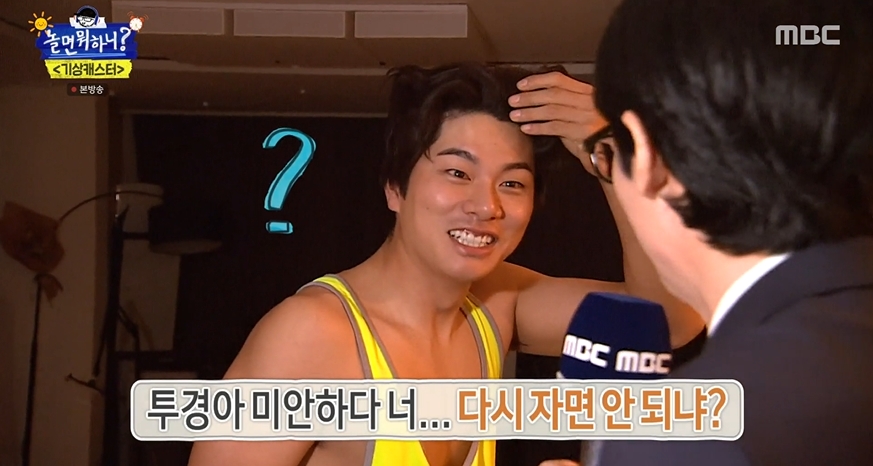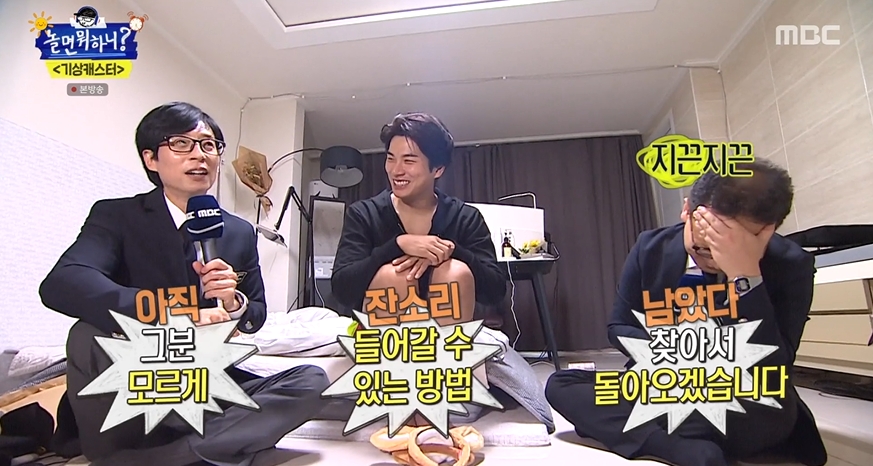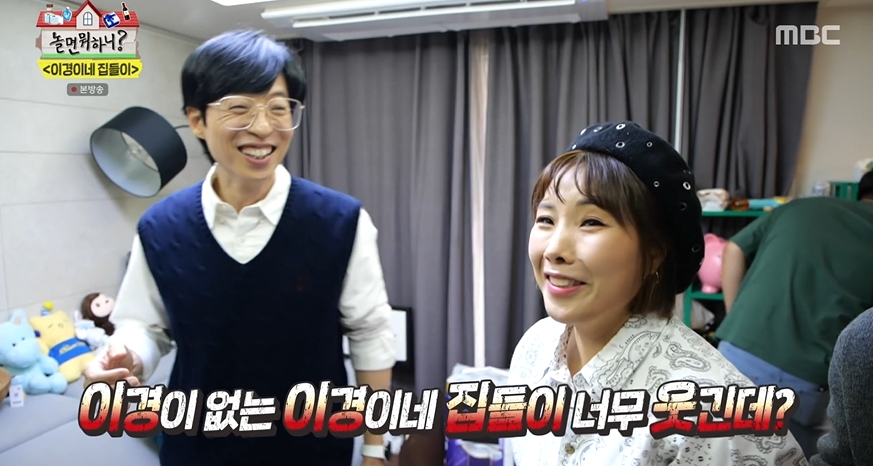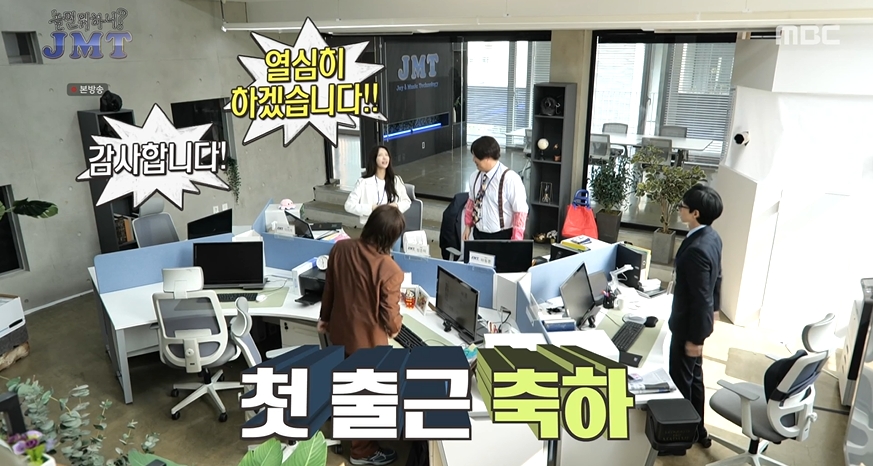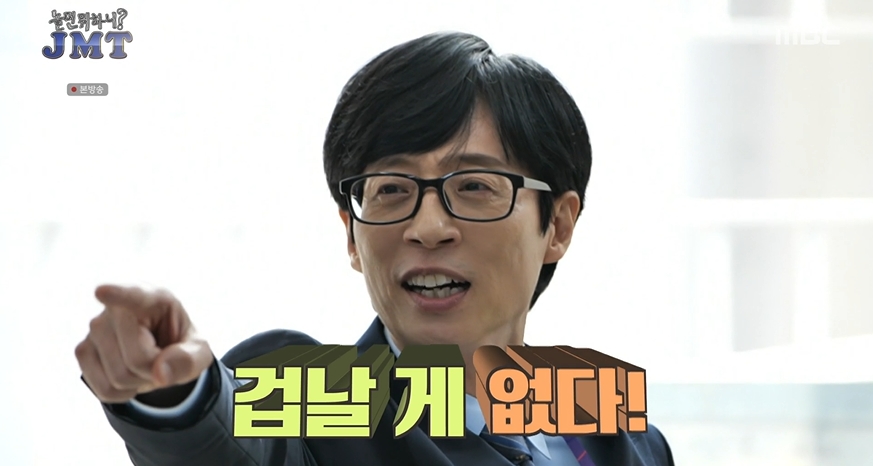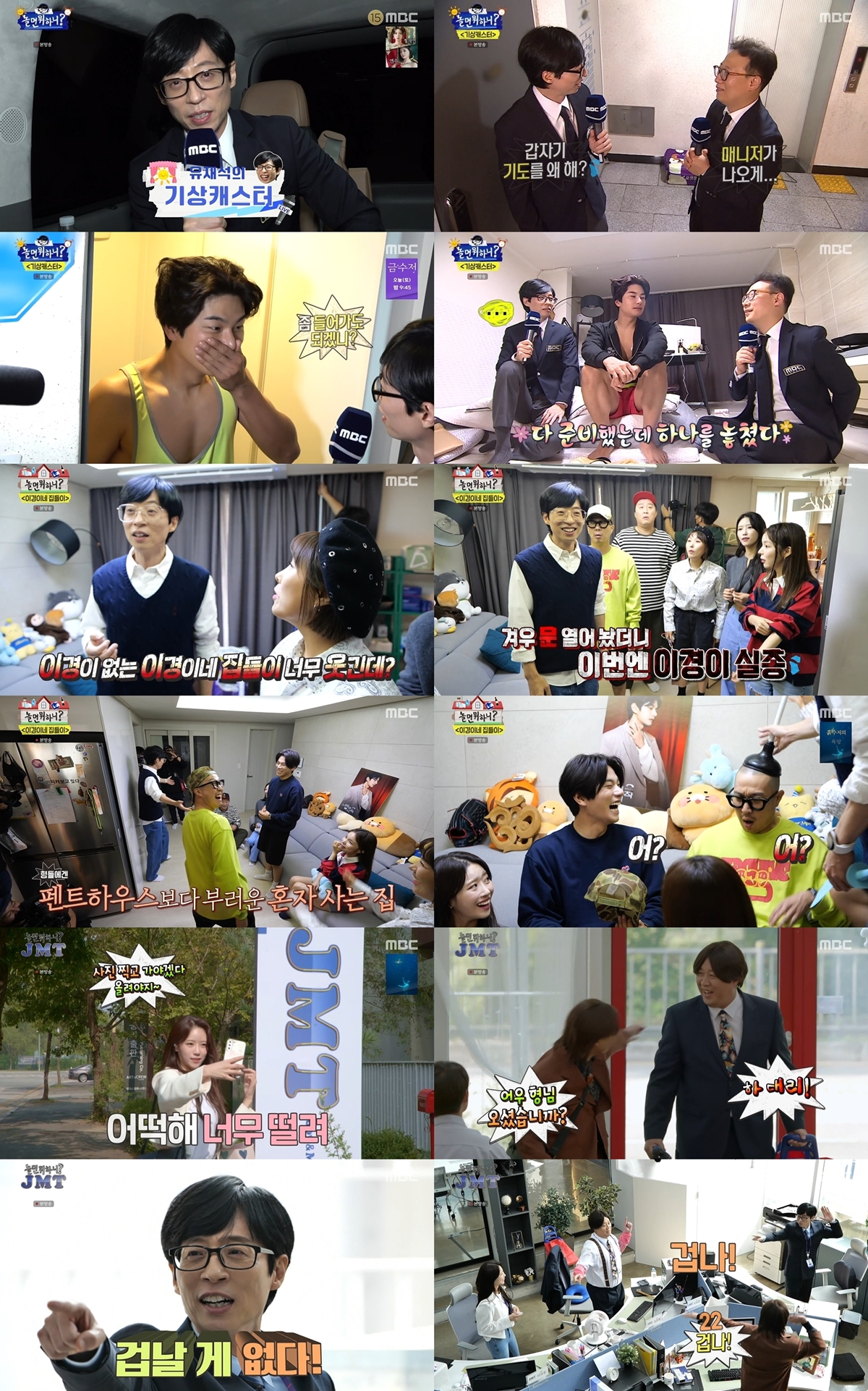 The MBC entertainment program 'What do you do when you play?' on October 1st. In (Director Park Chang-hoon, Kim Jin-yong, Jang Woo-seong, Wang Jong-seok, Shin Hyun-bin / Writer Choi Hye-jeong), a new corner weather caster experimentally prepared by Yoo Jae-seok, Lee Yi -kyung's houses without Lee Yi-kyung, and the prelude to the special JMT have been removed.
On this day, Yoo Jae-suk secretly had a weather interview with Lee Yi-kyung and planned a house-warming event, which made an unpredictable laugh. According to Nielsen Korea, an audience rating research company, 'What do you do when you play?' Household ratings recorded 6.1% in the metropolitan area, drawing an upward curve in the ratings. 2049's audience rating, a key indicator of channel competitiveness, was 3.0%, ranking first among Saturday entertainment programs. The best moment is the scene of Director Yoo (Yoo Jae-suk) going to the office anticipating meeting new team members on his way to work at JMT, and the highest viewer rating per minute increased to 7.7%.
This day's broadcast began with the appearance of Yoo Jae-suk, who appeared at dawn on the last day of the Chuseok holiday, announcing a new corner of 'Yoo Jae-suk's Weather Caster'. 'Yoo Jae-seok's weathercaster' was not a 'weather caster' who provided the weather forecast, but a 'weather caster' who reported how he got out of bed and prepared for his everyday life. Yoo Jae-suk introduced PD Park Chang-hoon, who appeared with him, as 'Player & Director', and predicted his active role as a gimmick combination.
The place Yoo Jae-suk went to for a weather interview was Lee Yi-kyung's house. Yoo Jae-seok said, "I had to convey Lee Yi-kyung waking up, but I heard that the lights were on." He said, "I'm very close with the manager (Lee Yi-kyung), so I didn't talk about it because there was a lot of possibility to talk about it. I can't even ring the bell and there's no way to go to into the house."
After much discussion, Yoo Jae-suk called the manager directly, but he failed to connect, saying, "I can't help it. I'll ring the bell myself." After a long wait, the bell at Lee Yi-kyung's house finally rang. However, even after ringing the bell several times, there was no answer, and Yoo Jae-seok called Lee Yi-kyung as a last resort. Yoo Jae-seok said, "I'm sorry, can you open the door and sleep again?" Lee Yi-kyung said, "Is this a dream?" It ended in failure to sneak into Lee Yi-kyung's house like that.
The infiltration failed, but the 'weather caster' started. An interview was held with Lee Yi-kyung, who was in a dream state, followed by a waking conversation between Yoo Jae-seok, Lee Yi-kyung, and Park PD. PD Park said, "I prepared everything, but I missed one," and Yoo Jae-suk emphasized, "But that was the most important thing." The combination of Yoo Jae-suk, who teased Park PD, and Park PD, who radiates glazed beauty, constantly provoked laughter. Yoo Jae-suk said, "I'll show you a real image," and predicted the 'weather caster' corner will be backed up again.
Then, Lee Yi-kyung reunited for the housewarming 'What do you do when you play?' The members were removed. Unlike last time, I met the manager beforehand and confirmed that Lee Yi-kyung was at home, and then entered 'Lee Kyung-i's house', but I couldn't see Lee Yi-kyung anywhere. When Shin Bong-sun panicked, "Is a house without Lee Kyung so funny?" Yoo Jae-seok, an experienced person, said, "This is real. Real is not as we think," he added.
The members who managed to bring Lee Yi-kyung into the house with the acting skills of the manager (?) really started heating up the house. When Lee Yi-kyung said she couldn't throw away the sofa her ex-boyfriend bought, Shin Bong-sun made a quick confession saying, "If you're dating my sister, I'll buy you something else."
Lee Yi-kyung's housewarming 'What do you do when you play?' To Haha, who was obsessed with his younger brothers' love lines, Yoo Jae-seok said, "Haha is so jealous of Lee Kyung-yi." Then HaHa said, "It doesn't matter if the house is small or big. It's a blessing to live alone," he said, and Yoo Jae-suk also said, "Hyung, I'm so jealous of this house. I like my house where I live with my family, but I love this house," he said, making everyone laugh. Gifts that are indispensable for warming a house have also appeared. From turntables to vacuum cleaners to gift certificates, gifts from the hearts of the members caught the eye.
The returned JMT special officer also pointed out. With the appearance of General Manager Yoo Jae-seok, who arrived at the JMT office first, the JMT special officer opened the door. Next, Lee Mi-joo, a new employee who passed the final interview, entered JMT with a heart full of excitement, saying, "What should I do, I'm so nervous?" Deputy 'Super Kkondae' Ha Dong-hoon showed off his kkondae power as soon as he appeared in the office, "An adult came in, but he didn't even say hello." Jun-ha Jung, the 'manager for the past decade', also signed a job stamp at JMT. Manager Jeong, who managed to rehire, met Employee Mi-joo Lee and greeted them awkwardly and pleasantly.
Before starting work in the morning, General Manager Yoo Jae-seok suggested, "Let's shout a slogan and introduce each other." When Assistant Manager Ha said, "The introduction is too long," Director Yoo said, "Are you scared?" and shouted the slogan "There's nothing to be afraid of!", embarrassing everyone. Director Yoo said, "Our new slogan has been decided." "Great! scary!! There is nothing to fear! Battle!', raising expectations for JMT's special game.
Meanwhile, in the trailer for the next broadcast released on the same day, Director Yoo's period of hardship was predicted. The figure of General Manager Yoo Jae-seok, who was broken by Executive Vice President Shin (Bong-seon Shin), provoked by his subordinates, was revealed and ultimately suffered the worst, and drew attention. In addition, from the interview of new employees to the appearance of a mysterious woman, the curiosity was raised.
MBC 'What do you do when you play?' is broadcast every Saturday at 6:25pm.
Baek A-young / MBC screen capture