Samsung Electronics headquarters in Seocho-gu, Seoul. 2021.8.13/News1 ⓒ News1
The price of DRAM, the main business of Samsung Electronics and SK Hynix, is falling day by day. As the semiconductor business, which had soared in the meantime, fell following the economic downturn, the red light was also lit in the third quarter (July-September) performance of Samsung Electronics and SK Hynix. As the fall intensifies towards the end of the year, the scale of the slowdown is expected to increase further.
According to FnGuide, a financial information company on the 2nd, Samsung Electronics' 3Q sales consensus (estimate) was 78.99 trillion won, and the operating profit consensus was 12.855 trillion won. Compared to the same period last year, sales increased by 6.8%, but operating profit fell by 18.7%.
The slowdown in operating profit is interpreted as sluggishness in its flagship semiconductor business. Compared to the second quarter, KB Securities predicted that display operating profit would increase by 400 billion won in the third quarter and smartphone and home appliance won 100 billion, respectively, while semiconductor operating profit decreased 2.6 trillion earned during the same period, bringing down the overall performance of Samsung Electronics.
SK Hynix's situation is similar. According to FnGuide, SK Hynix's sales consensus for the third quarter was 12.32 trillion won, and the operating profit consensus was 2.55 trillion won. Sales are forecast to increase by 4.4% YoY, but operating profit is forecast to decline by 38.8% YoY.
This is because demand for consumer products such as computers and televisions has fallen due to global inflation and economic recession, and demand for semiconductors used in products has also fallen. In particular, since the start of Corona 19 in 2020, semiconductor production increased significantly as non-face-to-face devices such as laptops became hot sellers.
According to DRAM Exchange, a market research organization, the fixed transaction price for general purpose products (DDR4 8Gb) for personal computers DRAM decreased by 16% from $3.41 in January this year to $2.85 in August. The price of general purpose products for USB NAND flash (128Gb) also remained at $4.81 for almost a year from July last year to May this year, but dropped to $4.67 in June, $4.49 in July, and $4.42 in August.
Semiconductor earnings are expected to decline further as the price drop increases towards the end of the year. Recently, TrendForce predicted that DRAM prices in the fourth quarter of this year will decrease by 15-18% compared to the third quarter due to a significant decrease in memory demand. This is more than the reduction in the third quarter (10-15%) compared to the second quarter.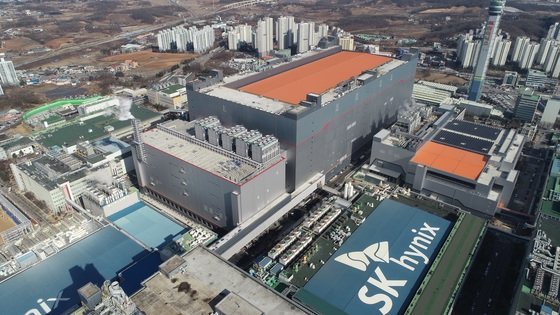 SK hynix M16 view (provided by SK hynix) 2021.2.1/News 1
In particular, as major US technology companies such as Google and Meta reduce their investment in data centers, the decline in server products, which had been relatively robust despite the sluggish DRAM market, is on the decline. TrendForce predicted that server DRAM price reduction will be 13-18% in the fourth quarter compared to the previous quarter. This is the biggest discount along with PC and mobile DRAM.
Eugene Investment & Securities estimated Samsung Electronics' operating profit in the fourth quarter at 9.5 trillion. This is a decrease of 31.5% compared to the same period last year. SK Hynix's 4Q operating profit is also expected to drop 85.9% from the same period the previous year to 595 billion won.
Lee Seung-woo, a researcher at Eugene Investment & Securities, said, "The inventory of parts piled up in preparation for a shutdown (such as supply chain problems) is becoming a double burden, and memory chip orders are falling to unusual level due to a sudden change in the economic environment, it is likely to continue," he said.
(Seoul = News 1)