A garage owner in Ban Pong District found a "2-headed lizard" with 4 eyes, 4 legs, 1 tail, the same body. believe in fortune Free car registration number, 3 lottery draws in a row
Reporters said today (November 25), reporters were told that a 2-headed lizard was found in a house in Ban Pong District, Ratchaburi, which had never been seen before. therefore travel to the said house Opened as a car garage, house number 122/1 Moo 4, Berk Phrai Sub-District, Ban Pong District, Ratchaburi Province
Come and meet Mrs. Pattama Chancha, 52 years old, and Mr. Seksan Ketunrin, 56 years old, husband and wife, who have taken reporters into the house. before coming a small lizard raised in a basin After his daughter found him walking and climbing on the leg while lying on the bed.
And the lizard above was found to be strange, with 2 heads, 4 eyes, 4 legs, 1 tail, the same body. Grey-white skin with cross stripes on all 4 legs and tail, and still alive Likes to eat red juice and grains of cooked rice. which is believed to bring good luck Because the car registration number 4160 of his own house gave fortune to win the lottery for 3 consecutive draws.
Khun Pattama said he usually believed in the Mutelu line. and their homes will have sacred things According to beliefs in many beliefs, such as Mae Nang Kwak, Pediatrician Thep, Palad Kik, or whether it is a cat's placenta, a kitten's carcass, money, gold, whoever says something good for trade and fortune, they often change to worship. And always get what I ask for.
As for the 2-headed lizard found in this house He didn't think it would be born in his own home. Because they are only seen in the news, two-tailed or two-headed lizards are found in many states and often have stories of different fortunes. When he found himself in his own house, he was surprised.
On the side of Nong Ploy, aged 21, the youngest girl, who was found, said that around 4:00 pm on November 20, while he was lying on a wooden bed next to the entrance of the house. As I lay, I felt something crawling on my leg.
So he turned to look until he saw a small lizard. It is strange that there are 2 heads, so I called my mother to come and see. And still able to catch, not escape, tame, still able to take the two fingers shaped like a head, so kept it to pick up and eat cooked rice, termites, water and red water
Ms. Pattama who was not a blind person. but let there be faith If you do not meet yourself Because people like to make merit. standing firm in the good Likes to help those who suffer and are less fortunate, although sometimes no one sees it, but he believes that fate sees him. Especially he did it to trade. He will ask for blessings from the holy and through faith usually succeed in all subjects
As for this 2-headed lizard, he plans to keep it as long as he can stay with him. and they do not intend to sell even if interested people ask to buy
Before, those who heard the news came to see some, to offer some offerings, and some asked for spikes from lizards. who said it depended on the merit and fortune of each person but the villagers believed Because the registration number of the car parked in the house is number 4160, with different villagers using it to hit lucky numbers to buy prizes that have been won 3 times in a row, both numbers 106 and 64.
for this period He also had a Jewish number that he had thought of, namely 12 21, which corresponded to the number of the house 122/1 and also corresponded to the 21st year of age of the youngest girl who met the lizard. But still not leaving the car registration number 4160 because he found a lizard with 2 heads, 4 eyes, 4 legs, 1 tail, found at 4:00 pm, Mrs Pattama concluded.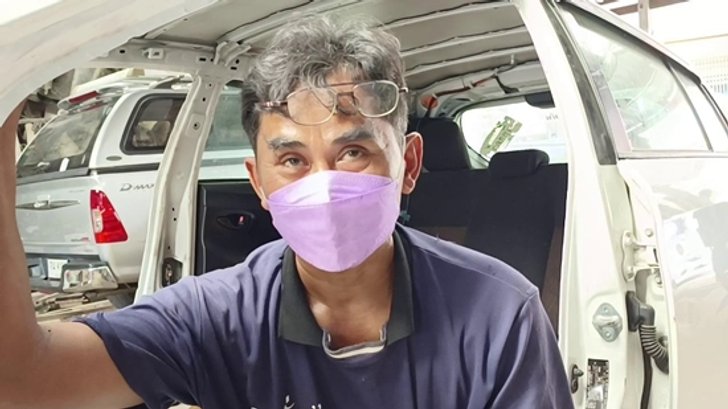 While Mr. Seksan Ketunrin, the husband of Pattama, who had never forbidden his wife who believed in Sai Mu. As he thought he was not harming anything, he was not ignorant, but he met himself. Because he has been working in a car repair shop for 26 years.
When there is no work or less work, so he will ask for work from the holy way The two kittens, money, gold, even the child. And there will always be work to do. success along the way
Every time there will be something to offer? to make merit in various places instead, and what the woman does that makes her happy We are happy to follow it too. The family is warm to this day.