It has been confirmed that Samsung Electronics, the world's No. 1 memory semiconductor company, has lowered its semiconductor sales forecast for the second half of the year by more than 30%. This is because demand for semiconductors has shrunk sharply as the economy freezes due to central bank rate hikes caused by global inflation. As the semiconductor industry enters a full ice age, there are many industry forecasts that the recession will continue until the first half of next year when semiconductor inventories are written off.
According to the semiconductor industry on the 30th, a senior official at Samsung Electronics' DS division said, "We have lowered our sales guidance for the second half of this year (the company's internal forecast) by 32% from our April forecast," in staff meeting held on the 28th. In April, Samsung Electronics' semiconductor sales market consensus for the second half of the year (average estimates from securities firms) was 67,294 billion won. If the 32% decline mentioned by this person is applied to the market consensus, the semiconductor sales forecast for the second half of the year will be reduced to about 45 trillion won.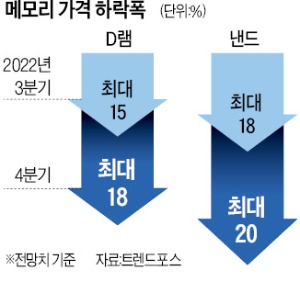 It is analyzed that Samsung Electronics' conservative outlook is greatly affected by the recent decline in memory semiconductor prices. According to DRAMeXchange, a market research company, the fixed transaction price for general-purpose DRAM products for personal computers (the price during mass transactions between companies) plunged 30.5% from $4.10 in July last year to $2.85 in September this year. The price of NAND flash also fell 10.6% from $4.81 to $4.30 during the same period. This is because orders for memory semiconductors are falling as demand for personal computers decreases due to the COVID-19 pandemic and smartphone sales in China plummet due to the lockdown in Shanghai, China. A semiconductor industry official said, "Suppliers and customers of DRAM and NAND flash are holding too much semiconductor inventory.
Semiconductor companies are responding to the memory semiconductor decline cycle by reducing investment. On this day, Sanjay Merotra, CEO of Micron, the world's third largest DRAM producer, said, "We will reduce the amount of semiconductor wafer investment in fiscal 2023 (September 2022 to August 2023) by 50% compared to the previous year." He said. Even if it is not until production cuts, it means that it will prepare for an 'oversupply' situation by reducing the increase in semiconductor production.
Professor Hwang Cheol-seong from Seoul National University's Department of Materials Science and Engineering said, "It is inevitable that domestic semiconductor companies will adjust their supply for a certain period of time."
Severe winter in the semiconductor market
Samsung and Hynix, won 33 trillion in inventory alone… Not even selling at '20-30% off DRAM'
"I won't buy it even if I offer an incredible discount."
Recently, the Chinese sales teams of Samsung Electronics and SK Hynix have taken a crisis. This is due to the special mission of the head office to eliminate the semiconductor memory inventory accumulated in the warehouse as soon as possible. Industry insiders say that even introducing a '20% discount on mobile DRAM' to Chinese smartphone customers and a '30% discount on PC card DRAM' to laptop makers is frustrating. An official of a semiconductor conglomerate said, "Due to the impact of the COVID-19 pandemic and the conflict between the United States and China, customers are also ensuring adequate inventory.
Semiconductor inventories increase by 30% in half a year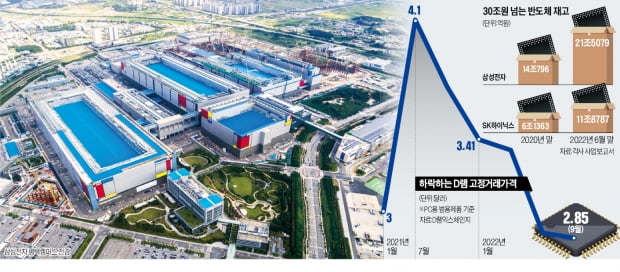 According to the semiconductor industry on the 30th, the biggest concern of memory semiconductor companies is 'inventory'. During a boom period when products are selling well, it's not a big deal if inventory builds up. However, if inventory increases during a recession, a company's cash flow may decline and new investment may shrink. When a boom cycle starts, it becomes difficult to react quickly.
The inventory of memory semiconductor companies is at a 'history' level. At the end of June, the inventory of Samsung Electronics' DS division, which is responsible for the semiconductor business, was 21,507.9 billion won, up 5.52.8 trillion won (30.7%) from the end of last year (16,455.1 billion won ). SK Hynix's situation is similar. The company's inventory assets increased by 33.2% (2.96 trillion won) from 8,916.6 billion won to 11.87 trillion won during the same period.
A semiconductor industry official said, "It's impossible to hold a stock while waiting for a boom that never comes.
'Unprecedented' oversupply
The underlying cause of the inventory increase is 'semiconductor oversupply'. In the first quarter alone, semiconductor companies such as Samsung Electronics and SK Hynix were confident that "even if demand for PC semiconductors decreases due to the pandemic, the market for smartphones and servers will continue to grow."
However, as unpredictable risk factors (risks) such as the Russian-Ukrainian war and the Chinese government's blockade of Shanghai extended, the economy between China and the European Union (EU) deteriorated. Consumption also contracted globally due to inflation and steep increases in interest rates. According to market research firm IDC, global smartphone sales this year are expected to fall 6.5% compared to last year. Apparently Apple has also abandoned plans to add new iPhone 14 production. PC sales are expected to plunge by more than 10%.
As demand for semiconductors plunges, companies have suggested 'supply management' in the third quarter, but some say it is "already too late". On the same day, Micron CEO Sanjay Merotra evaluated the semiconductor market situation as "an unprecedented (unprecedented) oversupply market. Micron has decided to reduce wafer investment by 50% and total capital expenditure (CAPEX) by 30% for fiscal year 2023 (September 2022 to August 2023) compared to fiscal year 2022. "We will cut supply more than demand," said Merotra.
"The second half of this year will be difficult due to a drop in demand."
The question is how long the semiconductor ice age will last. The forecast for this year is that the industry will continue to decline. TrendForce, a Taiwanese semiconductor research company, predicted that DRAM and NAND prices would fall by up to 18% in the third quarter compared to the previous quarter and by 20% in the fourth quarter. Samsung Electronics cut its sales forecast for the second half of this year by 32% from the previous one based on this market forecast. Micron also presented sales guidance (company forecast) for September-November of $4.25 billion, which is well below the consensus (average estimate of securities firms) of $5.6 billion.
Opinion is divided on whether the recovery will be next year. Micron made a rosy forecast on the same day, saying, "In the second half of next year, as DRAM prices show a recovery trend, sales will increase." The reason was cited as the reason why semiconductor companies began to regulate supply.
Domestic companies such as SK Hynix are taking a more cautious approach. A semiconductor company official said, "The down cycle will continue until next year. In the industry, the general view is that the recovery rate of the NAND flash industry will be slower than that of DRAM, with more inventory building up and fierce competition among companies.
Park Jae-geun, a professor of converged electronics engineering at Hanyang University, said, "The timing of Intel's release of new server central processing units (CPUs) and the activation of the DDR5 distribution will determine the timing of the recovery of the memory semiconductor industry. . .
Correspondent Hwang Jung-soo [email protected]