Samsung Electronics and SK Hynix's 3Q earnings consensus (the average of securities firm estimates) continues to decline. It is analyzed that this is due to the steep drop in prices due to the drop in demand for semiconductors. In the fourth quarter, there is also a crisis theory that Samsung Electronics can give 'The world's No. 1 in sales' to Taiwan's TSMC.
According to FnGuide, a financial information company on the 30th, Samsung Electronics' 3Q sales consensus (on the 29th), including semiconductors and home appliances, won 78,662.1 billion. The figure was revised down by more than 4 trillion won from the 82828 trillion won at the end of June.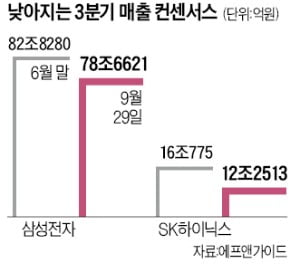 SK Hynix's situation is similar. SK Hynix's sales consensus for the third quarter was 12,251.3 billion won, down from the end of August (13.27 trillion won) and a week ago (12.32 trillion won).
The sharp decline in the consensus between Samsung Electronics and SK Hynix is ​​analyzed to be due to the decline of the semiconductor industry. According to market research firm DRAM Exchange, the fixed transaction price of general purpose DRAM for PC was $2.85 in September and the price of NAND flash was $4.30. They fell 30.5% and 10.6%, respectively, from the previous peak in July last year ($4.10 DRAM and $4.81 NAND flash).
It was also reported that the situation in the fourth quarter was serious. In a staff meeting held on the 28th, it is known that Kye-hyeon Kye, head of the DS division (President, photo), who leads the semiconductor business of Samsung Electronics, said, "The sales sites of semiconductor companies conductors around which the world in the fourth quarter may be reversed." Referring to Taiwan TSMC, the world's No. 1 foundry (semiconductor load production), President Kyung was concerned, saying, "TSMC's sales in the fourth quarter are likely to overtake Samsung's semiconductor sales." The declining performance of the memory semiconductor division, Samsung Electronics' core business, is a sharper impact than TSMC's core business, the foundry.
According to Seeking Alpha, an investment information company, TSMC's sales consensus for the fourth quarter is $19.32 billion (about 27.65 trillion won). Considering that President Kyung said, "Sales guidance for the second half of the year dropped 32% from the figure in April," the sales reversal is also evaluated as a 'good enough story'.
Samsung Electronics and SK Hynix began to adjust supply to pave the way for a price rebound. Although the memory semiconductor industry has entered a downward cycle, it is known that research and development investment will not decrease. A semiconductor industry official said, "Korean semiconductor companies like Samsung Electronics overcame the crisis through aggressive R&D and investment in facilities during the recession.
Correspondent Hwang Jung-soo [email protected]