"Humanoids will create a prosperous future… Millions of units will be sold for less than $20,000"
Tesla CEO Elon Musk unveiled the humanoid robot 'Optimus' and announced plans to produce millions of units in the future and sell them for less than $20,000, foreign media such as Reuters, AP, and Bloomberg reported on the 30th (time local).
Musk presented the Optimus prototype at the 'Tesla AI Day' event held in Palo Alto, Silicon Valley, California that day and said, "Robots produced on a large scale have the potential to change civilization at will," he said.
The version of Optimus Musk said to be developed in February walked out on stage and waved to the audience.
This model had parts and wiring exposed to the outside.
Optimus did not perform more complex movements on stage, but Tesla showed pre-made videos showing Optimus performing tasks such as picking up boxes and moving boxes or watering flower pots around the office.
"This robot can do a lot more than it just showed, but I don't want to show it falling on the stage," Musk said.
"Current humanoid robots don't have brains, so they can't solve problems on their own," he said.
"We expect the price of the robot to be under $20,000," he added.
The $ 20,000 is about a third of the price of Tesla's electric Model-Y, foreign media reported.
Musk expects to be able to take orders for robots within the next three to five years.
Other companies such as Toyota and Honda Motors have also started developing humanoid robots, and some have introduced robots that perform complex tasks such as shooting like a basketball player or taking part in the car assembly process Tesla is the only one that' n push for development.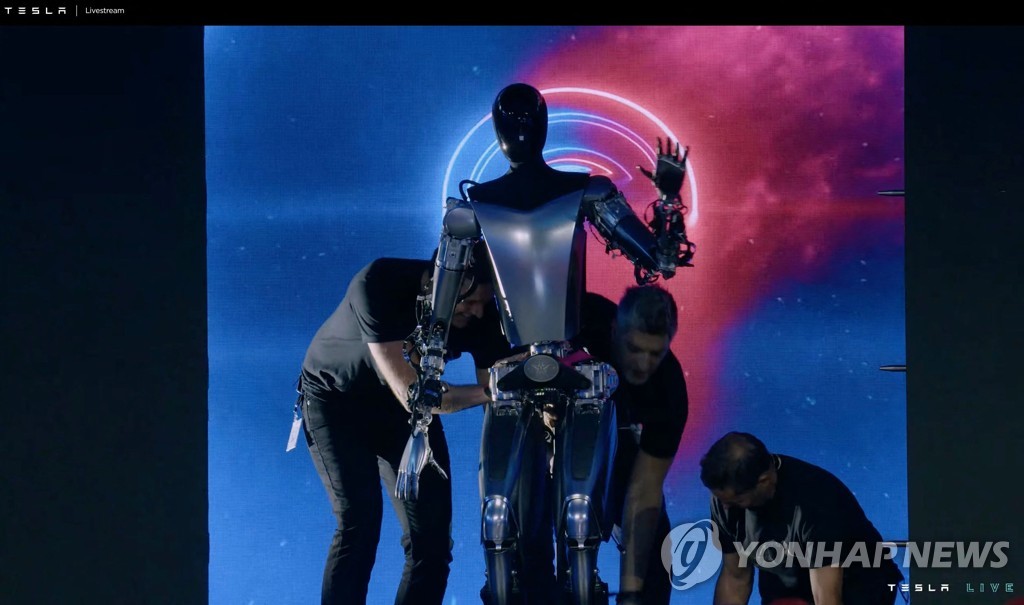 Tesla also unveiled the next generation Optimus at the event.
This model, which weighs 73 kg, has a 2.3 kWh battery pack on its chest and will have the ability to move its legs on its own with built-in chips and actuators.
If the first unveiled prototype had no cover and all the internal parts were exposed, this product was close to the finished product with its body covered from the outside.
However, the model was unable to walk on his own, and staff had to pick him up and place him on stage.
"This model is not ready to walk yet, but it will be in a few weeks," Musk said.
Arizona State University professor Henry Ben Amor said, "Given that the humanoid robot price is currently around $100,000 (140 million won) per unit, it is a good topic for Musk to set the price at $20,000 per unit, " he said. be a significant gap between reality and reality."
Aaron Johnson, a professor at Carnegie Mellon University, said: "It is impressive that Tesla has reached a significant level (in the development of humanoid robots) very quickly, but it is still not clear where it will produce millions of these robots and where they will be used." he noted that there was room for
Optimus, unveiled on this day, is evaluated to be at an early level compared to other humanoid robots that run, climb stairs, and even crawl.
/happy news