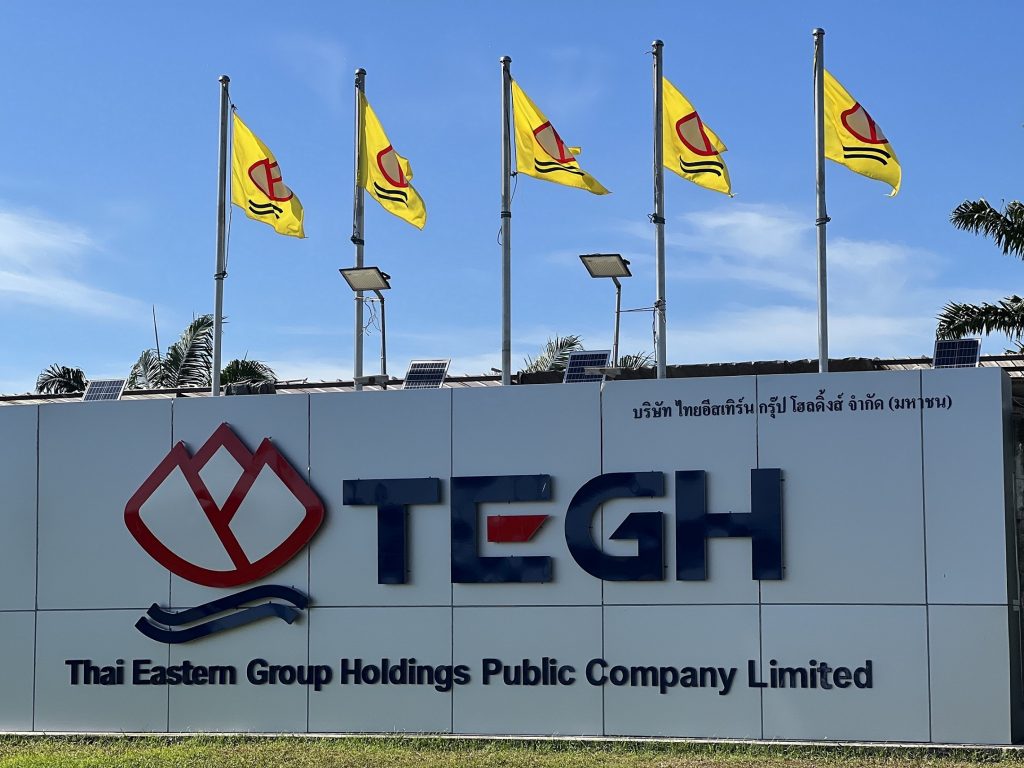 Mr. Manpong Senanarong, Deputy Manager, Head of Publishing Division The Stock Exchange of Thailand revealed that the SET has accepted Thai Eastern Group Holdings Plc for listing and started trading on the SET in the agricultural and food industry. Agribusiness By using the abbreviation of securities trading as "TEGH" on September 30, 2022
TEGH generates the majority of its revenue, approximately 80% of its total revenue from its natural rubber production and distribution business. The natural rubber products are divided into 2 main categories, block rubber and concentrated latex, which are sold to domestic and international manufacturers. In a variety of industries, such as the tire industry, shoes and elastic threads In addition, the company has a business to produce and sell crude palm oil. The Group's products are raw materials used in downstream industries such as cooking oil, food ingredients, butter, non-dairy creamer. In addition, there is a renewable energy business and organic waste management left over from the production process. to produce renewable energy. to create a green economy that can reduce the impact on the environment and generate stable income for the group of companies
TEGH has a post-IPO paid-up capital of 1,080 million baht, with a par value of 1 baht per share, consisting of 810 million existing ordinary shares and 270 million newly issued ordinary shares (IPO) through the offering of new ordinary shares to the public. The first is between September 21-23, 2022 at a price of 4.80 baht per share, which represents a fundraising value of 1,296 million baht and the value of securities at an IPO price of 5,185 million baht (E ratio) is 7.7 times.
It is calculated from the Company's operating results during the third quarter of 2021 to the second quarter of 2022, which is equal to 671.8 million baht divided by the total number of ordinary shares of the Company. After the IPO, the net profit per share (fully diluted EPS) is 0.6 baht, with Kasikorn Securities Public Company Limited and Trinity Securities Company Limited serving as financial advisors and underwriting managers and underwriting Issuance of common shares
Mr. Chalerm Koknutaporn, CEO of TEGH Revealed that the company has been in business for over 30 years by a management team that has knowledge and experience in the business for a long time. Today, the company is one of the leaders in the production and distribution of natural rubber. and is a major producer and distributor of crude palm oil in the eastern region. and is a major integrated bioenergy producer in the EEC area. Listed on the Stock Exchange of Thailand this time will increase the company's competitiveness. and strengthen the company's financial strength both in terms of lower financial costs and partner confidence
For the money received from this fundraising is used to increase the company's capabilities It is used as an investment to expand production capacity and improve operational efficiency. repayment of a financial institution loan and is used as working capital in the business
TEGH has a policy to pay dividends to shareholders at a rate of not less than 40% of the net profit according to the Company's separate financial statements after deducting all types of taxes and reserves as specified by law, payments may dividend such change. It depends on the operating results, financial status, liquidity, business expansion plans. any other future needs and suitability and other relevant factors.
After the IPO, the company will have 75% of the shares held by the family of Somchai Koknutaporn, the company's founder.
By InfoQuest News Agency (29 Sep 65)
Tags: TEGH , Chalerm Koknutaporn , Manpong Senanarong , Thai Eastern Group Holdings