Government "Recommend dressing high risk and symptomatic people even outdoors, in environments close to flocks"
From the 26th, the obligation to wear a mask outdoors will be completely lifted.
After the mandatory outdoor veil is lifted in May except for places crowded with '50 or more' in May, the '50 people' standard will also disappear, and it is expected that more people can walk the streets without rain. masking or enjoying outdoor events.
According to the Corona 19 Central Security and Disaster Countermeasures Headquarters on the 25th, regarding the guidelines for wearing outdoor masks starting from the 26th, 'If there are more than 50 people in the audience at gatherings, performances, sporting events, and etc. with 50. or more people, wear a mask', regulation will disappear.
Mandatory mask wearing began on October 13, 2020, the first year of the outbreak of COVID-19 in Korea.
From April 12 last year, it became compulsory to wear a mask in places where a 2m distance cannot be maintained between people, even outdoors.
Then, early this year, after the Omicron pandemic passed and the infectious disease response system changed to daily quarantine, the mask duty was lifted outdoors except for 'meetings, performances, and games of 50 or more people' on May 2.
Then, as the recent decline in the epidemic became apparent, from the 26th onwards, it was decided to lift all restrictions on 'more than 50 people'.
This means that all outdoor mask obligations will disappear after approximately one year and five months.
Accordingly, professional baseball (postseason) this fall, outdoor performances, and large-scale gatherings are no longer required to wear a mask.
You can enjoy it without a mask on walking paths, hiking trails, outdoor physical education classes, outdoor weddings, outdoor subway platforms, and amusement parks.
The government judges that the risk of transmission is lower than indoors due to natural ventilation outdoors, and the number of new confirmed cases has not changed significantly since the lifting of the mandatory outdoor mask wearing beginning of May.
In particular, the daily average number of new confirmed cases in the past week (September 17-23) was 35,553, which is a decrease of almost 20,000 from the previous week, and the number of serious cases and deaths is decreasing gradually.
The rebound trend due to the Chuseok holiday, which was spent without social distancing, appeared only temporarily and immediately turned to decline.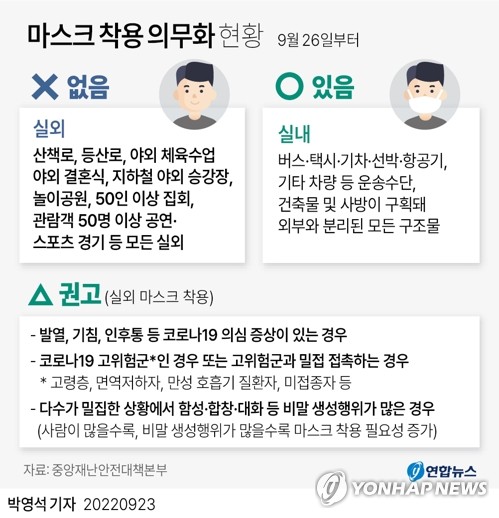 However, quarantine authorities recommend that people wear masks even outdoors in crowded situations where the risk of infection is relatively high, even if the mandatory outdoor mask is no longer required.
Outdoor masks are recommended for those with suspected symptoms of COVID-19 ▲ High-risk groups, such as the elderly, immunocompromised, and unvaccinated people, and people in close contact with high-risk groups ▲ Situations where there are many drops (saliva) of production such as shouts, choruses, and conversations in a crowd of people etc.
KCDC Director Baek Kyung-ran said, "This is to remove the mandatory fine for negligence, but it does not mean that there is no need to wear an outdoor mask."
With the complete lifting of the outdoor mask duty, it is expected that debates will continue regarding the timing of the lifting of the indoor mask duty.
In the case of indoor masks, the quarantine authorities said they would continue to discuss further in maintaining the obligation to wear indoor masks for the time being considering the possibility of simultaneous outbreaks of COVID-19 and seasonal influenza (flu) in the winter. .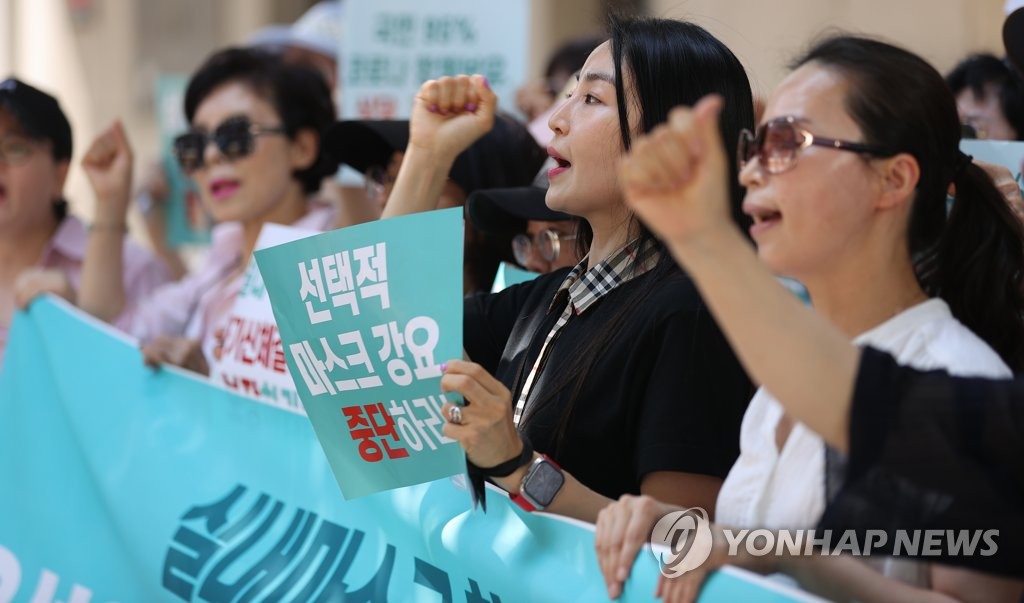 According to the quarantine authorities, Korea is the only country among the countries of the Organization for Economic Co-operation and Development (OECD) which maintains the obligation to wear a mask in all indoor places.
Other major countries have made indoor masks mandatory in medical facilities and some public transport only, and have removed them all indoors.
In the National Advisory Committee on Infectious Disease Emergency Response, an expert group, the opinion was shared that it is right to remove the compulsory indoor mask considering how wise it is to approach it when watching the winter situation, and foreign trends and level exercise people.
A plan to ease indoor masks from babies and toddlers is also being considered, but there are several opinions about the relevant age or facilities, so it has not been decided.
Commissioner Baek said, "The advisory committee has also decided to discuss the epidemic situation, logic, mitigation standards and timing, etc. on the obligation to wear a mask inside."
/happy news