A former teacher announces the sale of the last valuable item, a pure natural sapphire worth more than 2 million baht, hoping to use the money to pay off debts to his children, revealing that he does not want to see him in trouble.
On October 4, 2022, a reporter was informed by Mrs Pathumphon Sripimolpanee, 70, a former government teacher from Ratchaburi province that he wants to announce the sale of a sapphire worth more than 2 million baht, which is the last precious item. To pay children's debts Mrs Pathumphon brought a sapphire necklace surrounded by diamonds for reporters to look at.
The body is made of gold weighing 3 baht, decorated with 25 round diamonds, each size 25 satang, total weight 6.25 carats. The sapphire pendant is surrounded by diamonds contains an oval sapphire, size 20 carats, which is a pure natural blue sapphire that has not undergone a quality improvement process Set with 20 round diamonds, each size 15 satang, total weight 3 carats.
Mrs said Pathumphon that she was recruited in 1975 as a government teacher in a school in Bo Ploy District, Kanchanaburi Province, which is a famous gem mining area. Shortly after coming to work He has bought raw sapphire cubes from the villagers. It was then cut into an oval shape. then gathered into a sapphire necklace surrounded by diamonds Until retirement, he returned to his home in Ratchaburi Province, earning income from pensions and selling small things.
Mrs Pathumphon, in 2019, continued to bring the above sapphire necklace for inspection with the Gem and Jewelry Institute of Thailand. (Public Institution) identified as pure natural sapphire. which has not gone through any quality improvement process and is given a certificate He believed that there was very little pure sapphire of this size in the market. And most of it will be in the hands of collectors. rarely seen because the gem mine has been closed for over 20 years
"The reason for the decision to sell this jewelery Wants to use the money to pay debts to children. although feeling sad because before getting this sapphire necklace you have to be patient hoping to give as an inheritance to their children and grandchildren Property is only something outside the body. Therefore, this last piece of jewelery was announced for sale at a price of 2.8 million baht," said Mrs Pathumphon.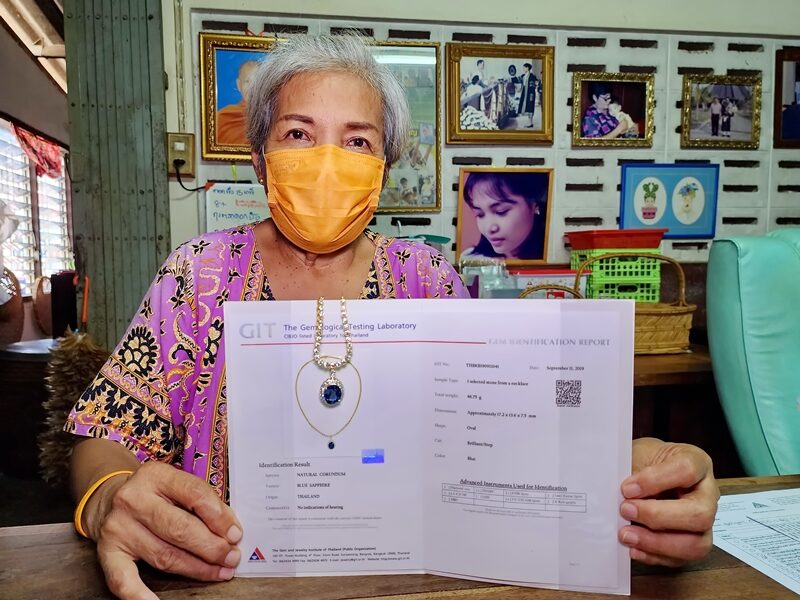 For those who are interested, you can contact Mrs. Pathumphon Sripimolpanee, phone number 0822994402.