The Permanent Secretary of the Ministry of Public Health revealed that the floods affected 49 medical institutions, but the public services were not affected.
Today (3 October 2022) Dr. Opas Karnkawinpong, MD. The Permanent Secretary of the Ministry of Public Health (MoPH) said that the flood situation of Storm Noru said that cumulative health service organizations are currently affecting 21 provinces, including one provincial public health office (Sor. 6 nurses (hospitals). ) , 2 district public health offices (PHP), and 40 sub-regional health promotion hospitals (Sor. Sor.) 41 of which are open for service as usual, and 8 are partially open for service, including hospitals … Sat. Taku Bang Luang Dod Hospital, Bang Hak Hospital, Phra Nakhon Si Ayutthaya, Samrong Thanh Hospital, Surin, Nong Kin Ple Hospital, Thap Thai Hospital, Sang Kaew Hospital Ubon Ratchathani Province and Lao Yao Hospital, Lamphun Province
Dr Opas said that hospitals in high risk areas have been raised to provide standby or set up sites. Ysbyty Maes to continuously provide medical services to the people and implement an action plan to prevent and solve flooding problems By adhering to the principle of protection, elevation, movement, there is a system to prevent water from flooding the hospital. moving medicines Keep medical equipment in a safe and elevated place to prevent damage. and provide sufficient resources necessary to provide assigned services Yongyot Thamwut The Deputy Permanent Secretary of the Ministry of Public Health was the head of the event. Monitor the situation and order support. with the Emergency Health Division as the co-ordinator
"The affected hospitals have adapted their services to the people, such as Chaiyaphum Hospital, which has been flooded.
The perimeter of the hospital is approximately 30 cm high and gradually decreases in level. Inside, there is a water barrier and an access bridge. Willing to organize transport for patients and staff at 4 points in the 4 corners of the city using hospital cars. PAO received car support from the army, Provincial Administrative Organization (PAO), municipality, and the affected personnel accommodation. has opened a special room in the hospital for rest which is still open to the public as usual including surgery, accidents, seriously ill patients, referrals for treatment Oxygen, drugs, blood and other medical supplies are available. In addition, a medical unit has also been established in 3 corners of the city using the location of Robinson's Department Store. Gas stations and municipalities to serve general and outpatients. There is also a 24-hour helpline for general health and stress counselling," said Dr Opas.
The Permanent Secretary of the Ministry of Public Health said, as for Dong Charoen Hospital, Phichit Province, the water flooded the hospital area, the parking building, the power plant, about 50 centimeters (cm) high. Sandbags have been blocking to prevent flooding of the hospital building. and move medicines and medical supplies to a safe place Ready to set up a tent to provide screening services to patients in front of the hospital If the symptoms are less, it is recommended to continue the treatment in the nearest hospital. If it is necessary to see a doctor, an X-ray is sent to the hospital. Urgent admission to hospital Coordinated with Bang Mun Nak Hospital, Phichit Province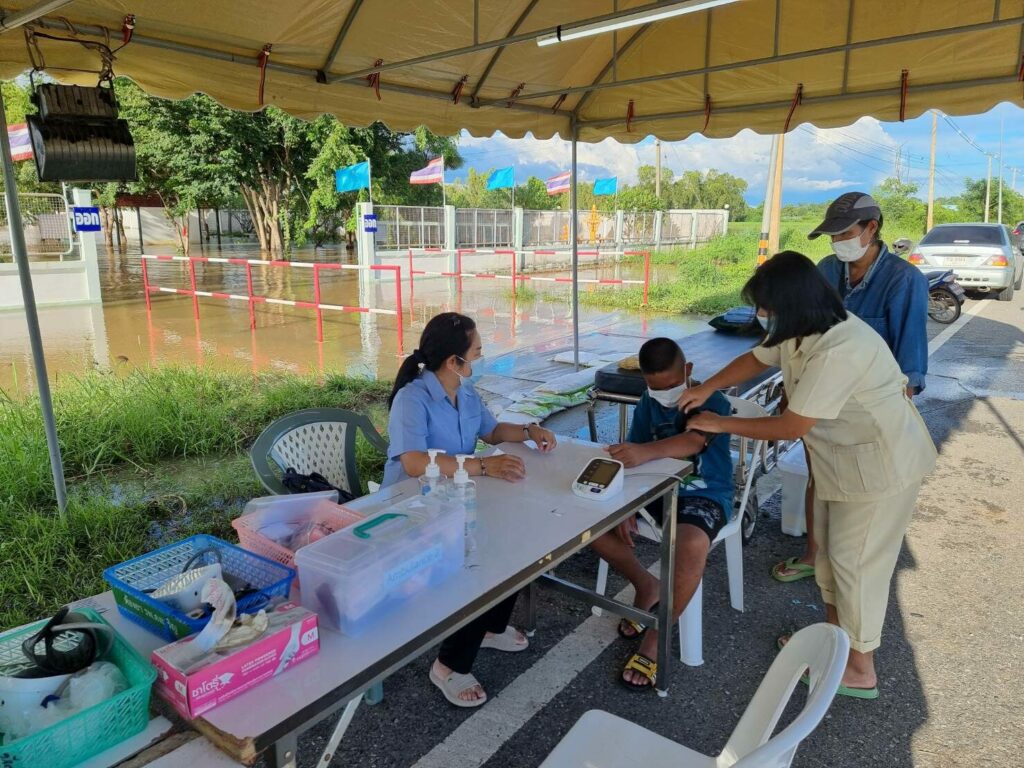 "As for Ubon Ratchathani Province, 3 hospitals have been affected and medical equipment has now been moved to a safe place. and adapted to provide services outside the area for the convenience of people traveling, such as Thap Thai Hospital, Muang District, using a gas station area Nong Kin Ple Hospital, Warin Chamrap District, using an office area the local administrative organization and Sang Kaew Hospital. Phibunmangsahan District It uses a temple area in the community There are also two hospitals that need to be monitored, moving medical equipment to be completed today. 13 families affected by the flood have already helped to move things up to the 2nd floor of the house. Announcing a mobile medical unit to provide proactive public healthcare with 81 teams, with a total of 13,411 patients, with advice on healthcare and prevention of flood-related diseases, such as diarrhoea, foot bites, as well as sending 28 MCATT teams down. He went to speak to improve the minds of the 1,366 affected people, 4 of them were found to be stressed and taken care of," said Dr Opas.