Global companies such as Google and Apple have been keen to recruit talent in the fields of artificial intelligence (AI) and big data early on. This is because the demand for labor has increased as the digital transformation (DX) of the industry accelerates due to the COVID-19 pandemic. However, Korean conglomerates seem to be far behind in the battle for AI talent.
The dark reality of companies is revealed in the number of AI and big data executives that rarely increases. On the 28th, the Korea Economic Daily analyzed the business reports of the top 30 companies by market capitalization in the stock market during the first half of this year. At the end of last June, there were only 43. This is only 1.3% of the total number of unregistered executives (3285) of the 30 largest listed companies. 14 places (46.7%) did not have a dedicated AI executive.
For two and a half years since the end of 2019, when the battle for securing AI talents between global companies ignited, the number of executives in charge of AI and big data in the top 30 Korean companies was 4 (39 at the end of 2019). → 43), and the share was only 0.05 percentage points (2019. 1.25% → 1.30%) at the end of the year) increased. A Google startup CEO explained, "At Google or Apple headquarters in Silicon Valley, the difference is AI and big data experts. The president of an electronics conglomerate said, "Apple employs nearly 20,000 people in research and development for parts, while Samsung Electronics employs 1,500, less than a tenth."
It is analyzed that the lack of an ecosystem for nurturing advanced AI talent in Korea and the reluctance of talented people in advanced AI countries such as the United States and Canada to work for Korean companies act as 'barriers'.
Jo Sung-bae, a professor of computer science at Yonsei University, said, "One top talent out of 100 general-purpose workers determines the level of the AI ​​industry and academia.
"NO" to the offer of an executive in a large Korean company
No 'dedicated executive' to lead AI organizations in 14 of the top 30 KOSPI listed companies
A Korean engineer with a career in Big Tech Silicon Valley's artificial intelligence department recently turned down a job offer from a domestic mobility company. I was promised at executive level for the pay rise, but I wasn't very happy. "The AI ​​business of Korean companies still looks uncertain," Mr A said.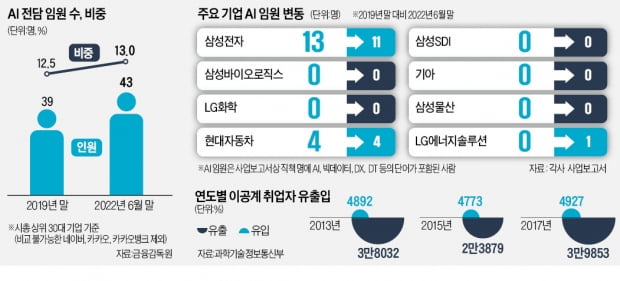 Korea B, who received a Ph.D. in computer science from the US Ivy League three years ago, straight to Google after graduation. He explained, "When I was thinking about the career development path (career path), I considered getting a job at a startup in Silicon Valley, but Korean conglomerates were not an option."
○ "Executives won't come to Korea even if they promise"
Securing AI and big data talent is one of the biggest challenges for big Korean companies. But the reality is harsh. Korean companies are being sidelined in the 'global war for securing AI talent'.
Even the top 30 listed companies in the stock market, such as Samsung Electronics and Hyundai Motor, are having difficulty recruiting AI executives. As a result of analyzing the business report in the first half of the year by the Korea Economic Daily on the 28th, 14 places (46.7%) did not have an 'AI function' (including words such as AI, big data, DX, DT, etc . in the name of the post or job). 43 executives were responsible for AI in these companies, accounting for just 1.3% of all non-registered executives.
It's not true that the top 30 companies don't have AI talent. However, the common explanation among industry insiders is that there is not enough high-level talent pool to lead large AI organizations as professional executives. An engineer in Silicon Valley said, "Even if a Korean conglomerate offers an executive position to a manager-level employee of a large US technology company, many people say 'no'. Because it is better for the managers and the family," he said.
Cultivated domestic AI talents are only looking for opportunities to go abroad. A professor at an AI graduate school in Korea said, "Unless there are special circumstances, current students and graduates go out through Google internships, etc."
○ Eight times the number of people who went abroad
There is also a shortage of talented people who are not 'S-class'. According to the 'Report on the flow and flow of science and engineering workforce at home and abroad' released by the Ministry of Science and ICT, in 2017, 39,583 domestic science and engineering workers went abroad and 4,927 workforce moved to Korea. Bae Soon-min, head of KT's AI2XL research center, said, "The development of AI and software industries does not necessarily require only S-class talent. He continued, "If the quality is insufficient, we will have to use the tactics." If we compare Korea's AI industry to agriculture, it's not about water quality (talent), but a situation where water is needed at a level that can turn a field into a paddy field." he did
Some point out that the status of data management experts who are relatively treated as 'hard labour' in the AI ​​industry should be raised. Hyeon-gyu Lee, AI/PM Data at the Institute for Information and Communications Planning and Evaluation, said at a recent meeting, "The data workforce feels uncomfortable because they are too concerned with creating algorithms and models in relation to training AI workforce. ."
○ Carry out internal qualification tests and collaborate with externals
Judging that the situation is not easy, some companies raise their own workforce. He is passionate about education that defines problems that occur in real work and solves problems using digital technology. KT introduced an 'internal qualification test' to strengthen employees' ability to use AI. Since last February, under the name 'AI Fundamentals for Business (AIFB)', external applicants have also been accepted. The company has formed an 'AI One Team' with Dongwon, Woori Bank, Korea Investment & Securities, Hanjin, Hyundai Heavy Industries, and LG Electronics, and is actively involved in joint talent training and open innovation.
There are also many voices calling on the government to draw up measures for the influx of foreign talent into the country. This means that Korea should develop into the 'Silicon Valley of Asia' where excellent AI talents from neighboring countries gather. Professor Hong Chung-sun of Kyunghee University's Department of Computer Engineering said, "We attracted students from about 10 countries, including New Zealand and China, and made complete master's and doctoral programs for them, but most of them left for the United States and Sweden, where living conditions are good. This is necessary," he said.
Park Yoon-gyu, 2nd Vice Minister of Science and ICT, said, "It is worth referring to the UK's policy of giving a 'special visa' to students attending the world's 50 best universities in order to develop London into a 'mecca' talent'. ."
Correspondent Hwang Jung-soo [email protected]